Student and Trainee Community

Welcome to the BMUS Student and Trainee Community

On these pages you will find links and useful information to help you during your training period and beyond. Through a mixture of regular items and occasional features, we aim to offer extra opportunities to help you develop in your field of clinical ultrasound and give you the chance to share ideas.
---
*New exclusive student and trainee competition for 2023 is now open
Go to the quiz page within 'Learning Resources' below for further information and to take part.
If you are not a BMUS student or trainee medical or non-medical member, join now at a reduced rate. Details of trainee membership and joining fees can be found here.
New for 2023: the North West Imaging Academy
Scroll down to Community News to find out more about their innovative course.
Are you thinking of writing a clinical case report?
If you are considering writing a clinical case report for submission to Ultrasound, the BMUS scientific journal, patient consent is required. BMUS offers a suggested letter template which you may wish to customise and use locally when seeking patient consent. Click here to access the template.
Learning Resources Including access to case reports and quizzes
Haiku Corner Find pearls of wisdom and understanding applied directly to the world of ultrasound, through the use of Haiku.
BMUS Study Days and Webinars
We offer a range of face to face study days at a discounted rate for student and trainee members. Go to our Events page for the current programme.
Regular 'live' webinars on a variety of topics including techniqes, specific conditions, and ultrasound physics revision for FRCR examinations are provided free of charge to BMUS members. See the current Webinar schedule here. The next physics revision webinar is scheduled for Jan 25th 2023.
Past Webinars
All past webinars are available to view on demand and are also free for members. Join BMUS at the discounted rate for students and trainees here. Look in the Webinar Library, under 'CPD Resources' to see the topics.
BMUS Top Tips
BMUS Top Tips offers many handy hints on all sorts of topics. New Top Tips are offered regularly.
The latest informative Top Tips collection is from Pat Duffin and Parshant Verma, who offer key information on performing a successful safe neonatal cranial scan.
Canon Medical Systems
Canon hosts a range of free webinars on their Medical Imaging Academy website. Just click here to register.
---
Professional Activity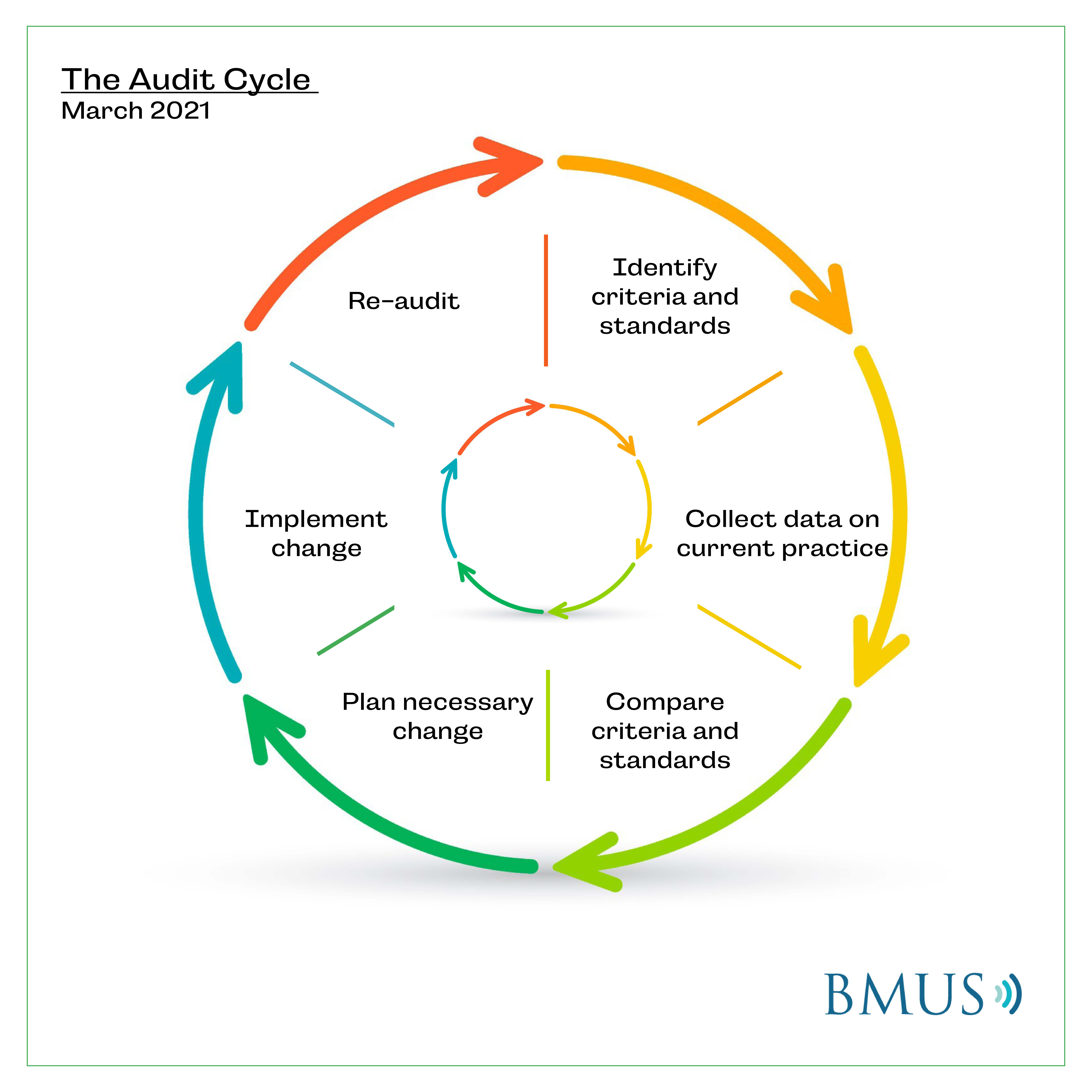 Do you sometimes think that research, audit and scientific writing are activities only for senior clinicians? Not so! If you have the interest and spare time it is a straight forward process to start with a short, simple case report of an unusual condition. Check out the BMUS Ten Top Tips for how to write a Case Report and consider submitting it to our scientific journal Ultrasound.
Alternatively, produce a shorter informal mini case report, keeping patient information anonymised and to a minimum, on more frequently encountered conditions and send to this website instead. The best ones will be featured monthly.
Educational articles include audit and service evaluation. Consider conducting a small audit within your department and submit your findings to this webpage. What question do you think needs answering in your department? Here's a simple flow diagram of the audit cycle to help get you started and ultimately share best practice with your peers.
USEFUL LINKS
Professional guidance
Are you or your department unsure as to what is currently recommended for specific best practice? Check out our comprehensive Guidelines for Professional Ultrasound Practice for advice, which may help inform your local department protocols. Remember also to ensure they are up to date.
---

COMMUNITY NEWS
Education
The North West Imaging Academy is pleased to announce its new and innovative imaging training initiative. For more information click here. January 2023
Training during COVID times
A team from Hull University Hospitals offer a short analysis of the impact of COVID-19 on their training community. Read their experiences here and please let us know if your experiences are similar. August 2021
Ultrasound Training Academy, London
Now in its fourth year, the Ultrasound Training Academy based at Central Middlesex Hospital, London, gives an update on progress. March 2021
East of England Imaging Academy
It's absolutely not easy being a trainee or student in ultrasound but, once qualified, the world is pretty much your oyster. Two professionals from Norwich, at very different stages in their careers, give a brief take on their experiences so far. Most, if not all, of us will identify with at least some of their comments! Many thanks to Sam and Guy.
If you feel moved to write something, please get in touch with Hazel at ProfessionalOfficer@bmus.org
---