Student and Trainee Community

Welcome to the BMUS Student and Trainee Community

On this page you will find links and useful information to help you during your training period and beyond. Through a mixture of regular items and occasional features, we aim to offer extra opportunities to help you develop in your field of clinical ultrasound and give you the chance to share ideas.
News Items
April 2021
Free Ultrasound User QA "Bitesize" webinars
Multi-Medix is running a series of short webinars on Ultrasound User QA, hosted by Dr Nick Dudley and Darren Woolley, Author and Editor of The Diagnostic Ultrasound QA Manual. Each "bitesize" 30min session will cover an aspect of ultrasound QA aimed to help those who wish to start a QA programme or refresh sonographers' knowledge. There will be four sessions in total, running every Tuesday in May at 7.30pm, with the option to watch them live or "on demand". For more information and registration details go to www.multi-medix.com
March 2021
Now in its fourth year, the Ultrasound Training Academy based at Central Middlesex Hospital, London, gives an update on progress.
March 2021
It's absolutely not easy being a trainee or student in ultrasound but, once qualified, the world is pretty much your oyster. Two professionals from Norwich, at very different stages in their careers, give a brief take on their experiences so far. Most, if not all, of us will identify with at least some of their comments! Many thanks to Sam and Guy.
If you feel moved to write something, please get in touch with Hazel at ProfessionalOfficer@bmus.org
Learning Resources
NEW! Clinical Imaging and Reporting
This regular feature will offer you the chance to test your knowledge on short, bite-sized chunks of imaging appearances and conditions. Click here for the first mini quiz on testicular ultrasound appearances. How did you do? The answers to the three questions on testes are here.
Test your knowledge on the first obstetric case scenario available here.
e-Learning for Healthcare
Have you accessed yet the e-learning for healthcare modules? In partneship with Health Education England, organisations including the Society and College of Radiographers and the Royal College of Radiologists have devised interactive clinical content freely available to NHS staff and those in higher education.
Click here for ultrasound-specific Clinical Imaging learning modules.
Click here for system-specific Radiology learning modules.
BMUS Webinars
Regular webinars on a wide range of topics including techniqes, specific conditions, and ultrasound physics revision for FRCR examinations are provided free of charge to BMUS members and are just £15 each to non-members. See the current Webinar schedule here.
Past BMUS webinars are available to members. Join BMUS at the discounted rate for students and trainees here.
Canon Medical Systems
Canon hosts a range of free webinars on their Medical Imaging Academy website. Just click here to register.
---
NEW! Innovations in ultrasound physics
Dr Kevin Martin, past President of BMUS, former Editor-in-Chief of Ultrasound, and ultrasound physicist from Leicester will edit a regular feature on new technologies and breakthroughs within the world of ultrasound physics. Kevin and fellow physicists Professor Peter Hoskins and Dr Barry Ward will discuss potentially game-changing innovations and explain their possible clinical applications and benefits. What are the experts focussing on this month? CMUTs ...sea dogs?!!
---
Professional Activity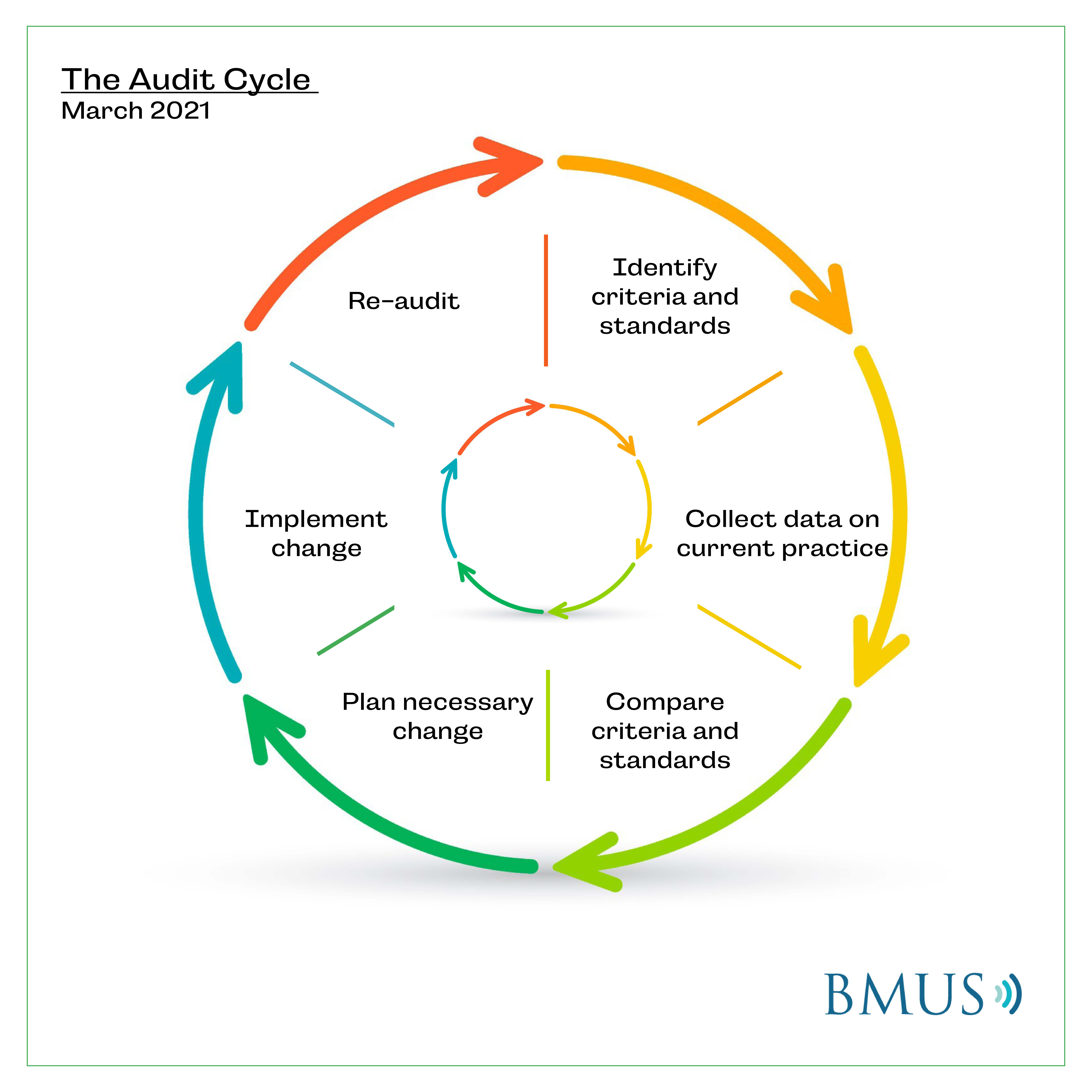 Do you sometimes think that research, audit and scientific writing are activities only for senior clinicians? Not so! If you have the interest and spare time it is a straight forward process to start with a short, simple case report of an unusual condition. Check out the BMUS Ten Top Tips for how to write a Case Report and consider submitting it to our scientific journal Ultrasound.
Alternatively, produce a shorter informal mini case report, keeping patient information anonymised and to a minimum, on more frequently encountered conditions and send to this website instead. The best ones will be featured monthly.
Educational articles include audit and service evaluation. Consider conducting a small audit within your department and submit your findings to this webpage. What question do you think needs answering in your department? Here's a simple flow diagram of the audit cycle to help get you started and ultimately share best practice with your peers.
---
BMUS Journal Club
Journal Club occurs quarterly to coincide with Editor's Choice from Ultrasound and its aims are to
encourage reading and critique of articles published in its peer reviewed journal, Ultrasound

stimulate discussion around other articles published in the world of ultrasound

further develop peoples' interest and knowledge of ultrasound

promote self-education and continuing professional development
Sonographer Writing and Publication (SWaP)
The SWaP are friends of the Journal Club and also provide a good forum for exchanging ideas around scientific writing for publication and will be happy to direct anyone keen to get started. Find out more here.
---
Annual Scientific Meeting Cardiff 2021
We welcome proferred papers from student and trainee members. They may be on any subject including case reports, audit, original research or service delivery. Those whose papers are accepted will benefit from discounted registration for the day of presentation. Abstract submissions open in May. See our website nearer the time for details or email Hazel at ProfessionalOfficer@bmus.org for further information.
---
USEFUL LINKS
Professional guidance
Are you or your department unsure as to what is currently recommended for specific best practice? Check out our comprehensive Guidelines for Professional Ultrasound Practice for advice. Remember also to check your local departmental protocols and ensure they are up to date.
---

Empowering students
Amanda Marland, Clinical co-ordinator for Direct Entry MSc in Medical Ultrasound at the University of Cumbria offers top tips for empowering students.
---