Other Meetings & Events
This page contains information on courses, conference and training events which have come to our notice. This is not a comprehensive list of courses and if you do not find what you are looking for on this or the BMUS Study Day page, an internet search may also assist you.
The courses listed below are not run by BMUS and we have no involvement in their organisation or programme content. BMUS takes no responsibility for these events and if you have a query regarding one of these courses, please contact the programme organiser directly.
OCTOBER 2021
RCR Learning Live - The Royal College of Radiologists' 2021 global annual conference
This fully interactive online event will take place over three weeks offering high-quality clinical and medical education for radiologists and oncologists. Specific sessions for trainees and cross-faculty sessions will look at topics that affect all those across the globe working in imaging.
The CPD accredited programme provides a convenient and flexible way of learning with a programme of morning and evening sessions and lunchtime symposia (BST), plus access on-demand for three months, so our programme can be accessed anytime and anywhere.
The diverse programme includes:
Access over 35 CPD sessions including radiology sessions, oncology sessions, contouring workshops, hands-on outlining experiences and wellbeing sessions
Hear from keynote speakers including Nadhim Zahawi, parliamentary under-secretary of state (minister for COVID vaccine deployment), Professor Sir Andrew Pollard, Oxford Vaccines Group and Dr Jeanette Dickson, president, Royal College of Radiologists
Explore hundreds of e-posters covering a wide range of scientific and quality improvement projects showcasing innovative ideas and approaches at improving patient care that you could apply in your own setting
Connect with your international colleagues and build your professional network. Engage with industry partners in real-time via live chat and meetings
Enter our new creative competition and the chance to win a free place at the 2022 annual conference.
To secure your place book online. All bookings made before midnight 6 September will save 25% with early bird rates. For further information please contact the organisers on +44 (0)20 7406 5942 or e-mail conf@rcr.ac.uk.
24th August 2021
---
MSK Ultrasound Hands-on Course
11th - 15th October 2021
Join us in Cambridge for a training event like no other, as we delve into the practical aspects of delivering MSK Ultrasound within your hospital/surgery or Physio/Osteopathy setting.
We welcome a range of professions to this unique, hands-on course, from Radiologists, Registrars, Sonographers, Rheumatologists, Surgeons and Primary Care GP's/Doctors, through to Physiotherapists and Osteopaths.
JCA Seminars are pleased to offer this practical MSK course, providing an opportunity to gain hands-on ultrasound experience under the watchful eye of our experts. Using Esaote ultrasound machines, we'll cover the dos and don'ts of MSK Ultrasound for shoulder, hand, wrist, elbow, foot, ankle, and knee, in addition to lumps and bumps and interventional procedures. You'll also benefit from the unique opportunity to practice on live models, to home in your skill set as well as diagnostic ability.
This course will take place in the beautiful city of Cambridge, and you have the option to attend the whole week or the day(s) of your particular interest.
Day 1 – Ultrasound of the Shoulder (with Lizz Bowles, Consultant Sonographer)
Day 2 – Ultrasound Hand & Wrist (with Melanie Hopper, Radiologist)
Day 3 – Interventional Ultrasound (with Jon Scrivens, Consultant Sonographer)
Day 4 – Ultrasound of Lumps & Bumps Incl. Hernia (with Jon Scrivens, Consultant Sonographer)
Day 5 – Ultrasound of the Lower Limbs (Incl. Hip & Knee)(with Alok Kashyap, Advanced Practitioner Diagnostic and Interventional)
Accredited by The Royal College of Radiologists – 20 CPD/CME credits will be awarded to those who attend the week (4 per day).
Event Booking web link:https://www.jcaseminars.com/events/msk-ultrasound-hands-on
Delegate fees can be found on the booking web link.
18th August 2021
---
Advantages of contrast-enhanced ultrasound (CEUS) in the Management of Patients with known or Suspected Liver Disease Webinar
Date: 28th October 2021
Time: 18.00hrs - 20.00 hrs
This event is free of charge
This is an educational event aimed at the British Liver ultrasound community and will discuss topics related to the benefits of CEUS.
Liver CEUS: Why, when and how?
Liver CEUS in the guidance and periprocedural assessment of ablation therapies & Importance of the collaboration between the radiologist and sonographer.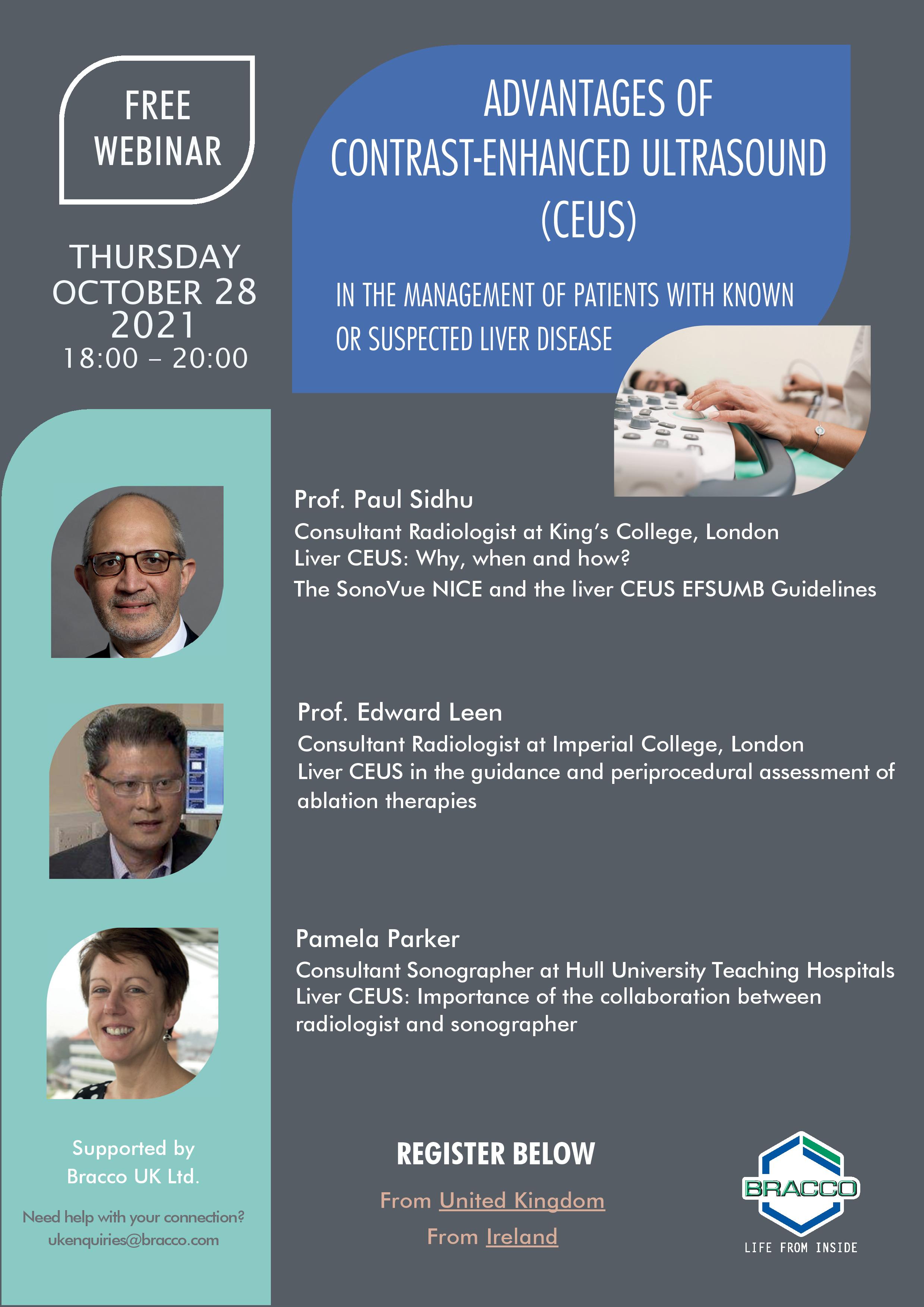 To book please click here
4th October 2021
---
MSK MRI for Beginners
Event Date: 30th October 2021
A beginner's course for healthcare professionals interested in interpreting musculoskeletal MRI.
Accreditation:
This course provides 6 CPD credits in accordance with the CPD Scheme of the Royal College of Radiologists.
Course aim:
To provide participants with a practical, stimulating, step by step guide on interpretation of musculoskeletal MRI:
- cased based and interactive
- step-by-step approach
- covers knee, shoulder and lumbar spine
Learning outcomes:
By the end of the course, the attendee will have:
- An understanding of MR anatomy and appearance of most common pathology
- An appreciation of a step-by-step approach to interpreting and greater confidence in reading MSK MRI, and
- Identified any knowledge gaps relevant to his/her practice, and ways by which these can be addressed
Course highlights:
- Taught by a consultant radiologist with extensive experience in MSK MRI interpretation and teaching.
- Focuses on concepts someone new to MSK MRI interpretation may find challenging.
- Case based and hence relevant to day-to-day practice.
- Covers most common pathology enabling attendees to make a start interpreting musculoskeletal MRI.
- Limited number of delegates to facilitate interactivity.
Registration:Email admin@mskbeginner.com for a registration form
Event Programme Link: www.mskbeginner.com
8th September 2021
---
MAY 2022
WFUMB Congress 2022, incorporating Euroson 2022 and SRUMB 2022
Location: Timisoara Convention Center, Timisoara, Romania
Date: 25th - 28th May 2022
WFUMB 2022: Further details & Registration Fees