An Experience of CRPS: Article by Samantha Frater, Superintendent Radiographer Ultrasound
An Experience of CRPS
I started my training in ultrasound in 1999, qualifying in 2001, and worked as a full time Sonographer. I often experienced aches and pains after difficult patients or difficult days and did not think about it too much, but it gradually started to be more of a problem. In 2008 the Superintendent role was advertised, and I applied because I could not see myself being able to scan full time for the rest of my career. However, by 2009 the ache had developed in a clawing of my fourth and fifth finger and increased pain throughout my arm. I saw several clinicians via my GP and occupational health (OH) and eventually I was diagnosed with Complex Regional Pain Syndrome in my right arm.

''Complex regional pain syndrome (CRPS) is a condition where a person experiences persistent severe and debilitating pain. Although most cases of CRPS are triggered by an injury, the resulting pain is much more severe and long-lasting than normal. The pain usually only affects 1 limb, but it can sometimes spread to other parts of the body. The skin of the affected body part can become so sensitive that a slight touch, bump or even a change in temperature can cause intense pain''
https://www.nhs.uk/conditions/complex-regional-pain-syndrome/

About this time, I became more aware of issues with Sonographers experiencing pain whilst undertaking their role and I liaised with the Trust's Manual Handling Coordinator and the OH Physio and we started producing annual reports from a questionnaire completed by each Sonographer about any pain they were experiencing, how bad it was and how often, as below.



This produced similar results to the literature at that time with 80% of the team reporting they were experiencing pain while undertaking their role. We used this evidence to secure funding for ergonomic seating, fully adjustable couches, and slave monitors in the obstetric rooms. We also allocated staff to specific rooms for sessions so they could set up the equipment ideally for them at the beginning of the session rather than having to adjust equipment and we devised a diary template, so staff did not have too many of the same scan in a row. We also had access to training with the Manual Handling Coordinator and urgent referrals to the OH Physio. This had variable results for different Sonographers, as below, but the aim was to prevent injury and treat any symptoms as soon as possible.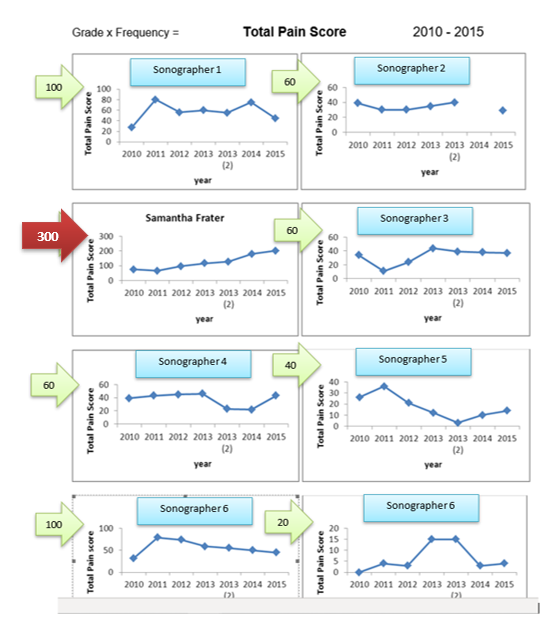 We continually looked at ways to make improvements, working with manufacturers and experts in different areas over the years but unfortunately my CRPS did spread and made scanning an impossibility until I had to stop scanning completely in 2013.

This condition has obviously affected my working and personal life with a variety of splints, crutches and walking sticks being required on an ad hoc basis along with a large amount of medication but what I am hoping to do is raise the issue of pain and listening to what your body is telling you when you are undertaking your role. Make sure you have the correct equipment, that you are in an ergonomic position whilst scanning, that you allow your arm to rest or stretch between examinations and that your workload is organised in a way when there is not too much repetition for extended periods of time. It is vital to ask for assistance in a timely way and hopefully it can prevent other people ending their careers early.

Article by Samantha Frater, Superintendent Radiographer Ultrasound