Programme Director Medical Ultrasound and Vascular Ultrasound
Susan Halson-Brown, DCRR, DMU, MSc, PgCL&THE, FHEA
As I approach the end of my career in Medical Imaging, Medical Ultrasound Awareness Month (MUAM) has given me an opportunity to reflect on the development of ultrasound as a medical imaging technique since my first introduction to the 'diabolograph' at St Mary's Hospital for Women and Children in Manchester as a Diagnostic Radiography student in 1976 working with Dr Valerie Jones.
So many developments….. and for me, every encounter with an ultrasound machine still produces a 'wow' factor or a 'light-bulb' moment. Only yesterday I looked across the room of attendees at a Study Day I was facilitating and found myself exclaiming "just look at that pancreas, isn't it beautiful" and launching across the room to explain why the image was so good.
What have been the milestones of my career? In forty-years probably too many to include! Having seen those early obstetric images I knew from the outset that my career would be in ultrasound and I seemed to have a natural aptitude for it. My first post was as a diagnostic radiographer at the Manchester Royal Infirmary with my contemporaries being Leonie Paskin FCR, Kathlyn Slack FCR and Sue Taylor. We four musketeers have remained friends throughout our careers, albeit these days mainly through social media, due to our busy lives.
Key points were working with Mr R Alan Scott on the data collection which was the forerunner of the National Abdominal Aortic Aneurysm Screening Programme (NAAASP). I can confidently say that screening programmes take about 23 years from inception to fruition. The original work was done on a portable scanner provided by the Friends of Bognor Regis Hospital and I still have the newspaper cutting somewhere proudly receiving the scanner from their Chairman.
I reached a point in my career, before independent sonographer reporting became the norm, of being frustrated with the NHS and the reluctance to accept sonographer skills. I was offered a job as a Product Specialist with Sonicaid, later becoming Oxford Instruments, where I was able to undertake research in ultrasound and the early development of Continuous Wave (CW) Doppler to assess vascular waveforms. I was able to work with the late Professor Geoffrey Dawes and Chris Redman in Oxford on the development of Artificial Intelligence (AI) primarily to assist in interpreting short term variation of Cardiotocographs (CTG) in pregnancy. My moment of fame being an interview by the BBC World Service when the system received a Design Award. I have scanned a Killer Whale and visited her in the 'Nunnery' in California. I have scanned dogs, cats, horses and even a guinea pig for ureteric obstruction (great images). I have had a standing ovation from a room full of German salesmen. I have passed fainted delivering a lecture in Pisa and been transported back to the plane on a luggage trolley! All opportunities afforded to me by ultrasound.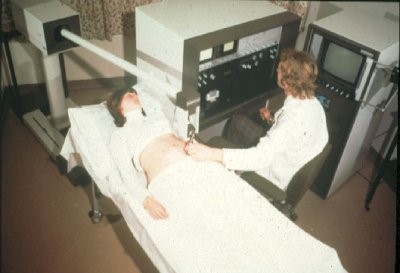 The untimely death of my husband at the age of 38 focused my attention on the United Kingdom (UK) and the call of the NHS became too strong to resist. My MSc was based on community ultrasound services and I took up a post in my local community hospital providing principally a service to the local GPs, many of whom remain friends.
Next on to academia at the University of Portsmouth, with the brief to embed ultrasound within both the undergraduate diagnostic and therapeutic radiography programmes under the leadership of Derek Adrian-Harris TD JP M Phil FRC. This I did, including a few paramedics and military personnel, in the process. I don't mind who undertakes ultrasound examination if they are undertaken properly; no 'dabblers', in my book. I was invited to apply for the position as Programme Director at King's College, London in 2014 and here we are. King's now has somewhere between 85-100 students each year, at various stages of the MSc programme.
What do I love most about ultrasound? A tough question. What do I not love about ultrasound would be easier to answer. The answer would be 'nothing'. I am a complete enthusiast.