Consultant Sonographer
Dr Ben Stenberg PhD
It's been a good month for the consultant sonographer in Newcastle-upon Tyne, Dr Ben Stenberg PhD, who has been nominated and chosen as Radiographer of the Year for the Northern region.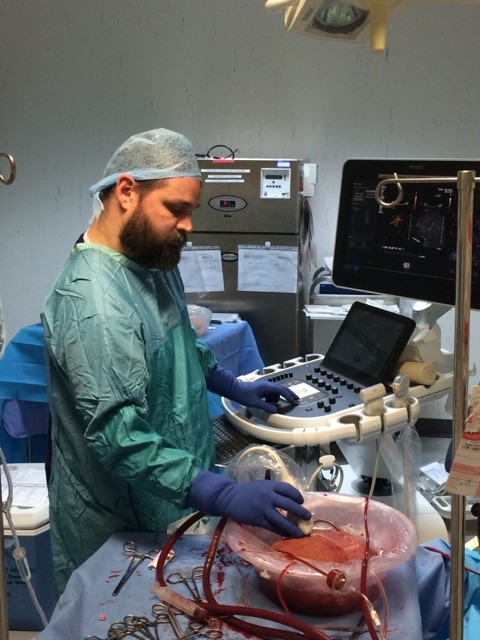 Ben is a key member of the team in Newcastle who specialises in general medical, transplant, contrast and head and neck ultrasound and performs fine needle aspirations, core biopsies and drainages in the neck and abdomen. As well as performing scans and doing interventional work, Ben takes part in research and product development. He is a great support to his colleagues continues to push the boundaries of ultrasound and encourage sonographer role development and education. This was highlighted as one of the reasons for his nomination; "Ben is extremely motivated and passionate about ultrasound and education and training and pushing the boundaries of what we can expect to do with ultrasound. He is constantly striving for excellence not only for himself but for his Sonographer colleagues and anybody else involved in Ultrasound."
In the same week he also found out that he had won the EFSUMB (European Federation Of Societies For Ultrasound In Medicine And Biology) Best Published Paper Award. This was for a paper he wrote on his work on contrast enhanced ultrasound in early kidney transplants as part of his PhD (http://www.ncbi.nlm.nih.gov/pubmed/28593430/). This was against stiff competition from sonographers and radiologists from across the whole of Europe.
Ben says "I love what I do. It is a great mix of working with advanced technology and working with lots of people. Every day is different and I like to feel that I am making a genuine difference to my patients and to my colleagues. It is a wonderful thing to feel that that is appreciated and I am hugely honoured that somebody felt strongly enough to nominate me."