Training
Training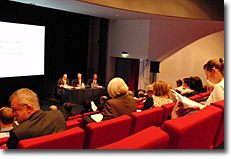 1. Currently all formal training in the UK for Ultrasound is at a post graduate level. CASE (The Consortium for the Accreditation of Sonographic Education), is a recognised body in the UK which accredits Ultrasound Courses in UK Universities.
The courses in the Directory lead to qualifications such as Post Graduate Certificate, Post Graduate Diploma or Msc in Ultrasound. the usual person to take one of these courses would be someone with an appropriate first degree in a healthcare related subject, for example, Radiography or Midwifery.
Obtaining a PG Cert or Diploma requires acceptance on a course offered by one of 20 or so universities around the country. Such courses typically run for 12 months (PG Cert) or 18 months (PG Diploma). They are offered as part time, full time or block release courses, the format varying with each university. All require attendance at the university for academic studies and clinical placement in an approved hospital for clinical training.
A typical part time course requires one day's attendance at university and a minimum of two day's full time clinical training. It is generally the prospective students responsibility to arrange an approved clinical placement.
All CASE approved courses are offered at postgraduate level. Entry requirements generally include a first degree in radiography, midwifery or similar science or health-related subject. Students may be accepted on a course of their previous learning and experience fulfils specific non-standard entry criteria.
Further information can be obtained from the CASE website or from the CASE office.
---
2. Further information on training for specific specialties can be obtained by approaching the relevant Royal College or professional society.

You can also see an overview of training for some of the major sub-specialties practising ultrasound by reading the EFSUMB guidelines.

We also recommend the document produced by the Royal College of Radiologists on Ultrasound Training Recommendations for Medical and Surgical Specialties.
Please click here to download a PDF of this document.
| | |
| --- | --- |
| Information on delivery of Ultrasound training for trainers can be found on the RCOG website, please click here to access the information | |