BMUS Journal Club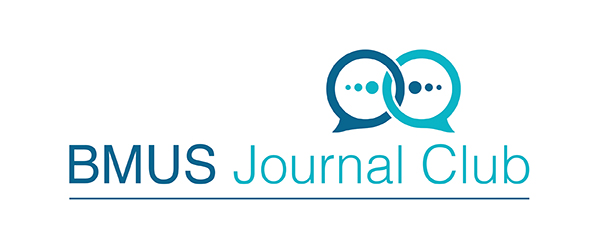 BMUS is pleased to announce that it will launch an online Ultrasound Journal Club in August 2020.
The BMUS Journal Club aims to
encourage reading and critique of articles published in its peer reviewed journal, Ultrasound

stimulate discussion around other articles published in the world of ultrasound

build on the sense of community in the field of sonography

further develop peoples' interest and knowledge of sonography

promote self-education and continual professional development

raise the profile of the Ultrasound journal, and to highlight the journal as a place to publish articles and research

and to have a little fun!
Starting in August 2020 in line with each journal issue, BMUS will run a twitter based online Journal Club. The forum will run on each occasion for an hour on an agreed evening mid-month each quarter. The discussion will be hosted by a dedicated BMUS Journal Club Twitter page
Information
The Editor's Choice article will be the article of discussion, this article is freely available to all to read for a set two week period.
The discussion will be facilitated by a BMUS Committee Member and all BMUS members are encouraged to join in.
The discussion will be guided by 3-4 discussion topics or questions. These will be set in advance and aim to stimulate and move the discussion along, each topic will last 15-20 minutes and will be tagged #D1, #D2, #D3, #D4.
If joining in the discussion please use the #BMUS_JC and tag the club account in it @BMUS_JC and which discussion topic you are responding to.
First Journal Club
The first discussion will take place on 20th August at 7.30pm (BST)
The article for the first Journal Club is
Sonographers' level of autonomy in communication in Australian obstetric settings: Does it affect their professional identity?
This is available here to all as the editor's choice article till 21st August.
Discussion topics (#D1, #D2, #D3 etc)
#D1: Disclosure of results by sonographers in Australia depends on the setting in which they work. What situations in the UK do we have that means we may not always give full results to the patient? #BMUS_JC
#D2 Based on our own experiences in the UK, how might some of the barriers to communication/disclosure of results experienced by sonographers in Australia be overcome or reduced? #BMUS_JC
#D3. Is there an advantage in not giving full results to pregnant women? #BMUS_JC
Who can join in?
Anyone with a twitter account with an interest in ultrasound. If you would like to set up a twitter account please go to https://twitter.com/i/flow/signup.
Lurking is ok, but getting stuck into the discussion is better!
Rules of the Discussion
Be polite and considerate to all those involved in the discussion. Treat others how you would like to be treated. Any inappropriate or offensive comments will be reported.
SWaP: Friends of the BMUS Journal Club
We are lucky that we have many friends and colleagues in the Ultrasound world. As we launch the BMUS Journal Club we do so with the support and encouragement of the SWaP (Sonographers Writing and Publishing) community. In support of the Journal Club SWaP have put together the statement below as well as some Journal Club Guidelines which you can find here. To ensure a full Journal Club experience these are an essential read.
The SWaP team believes that the reading and discussing of new articles is a key part of improving the writing and publishing process. Not only do you uncover new ideas that may challenge or inspire how you currently think or work, but you will also find your own writing style. By reading the writing of others and seeing how they use phraseology and syntax to portray paradigms or ideas can be a really inspiring process.
When reading articles, even as an expert in your own specialty, you may find an article oddly confusing and disorientating. This is not always a reflection on your ability to process the information presented, but a reflection on how the information is being presented. Often this arises from an unclear writing style utilized by the author. It is therefore essential to read other people's work to see what you find easy or difficult to read. This helps you hone your writing style as well as develop a deeper understanding of the topics discussed. From this basis you can develop your own research or ideas which you can go on to write about in a clear succinct manner in the future. It is important however, to remember that research is not the only form of writing, letters to the editors about poignant articles are also a form of academic writing that can be incredibly valuable, bring new points of view to topics or reinforcing shared views and experiences.
The more you read, and most certainly the more styles of writing that you read, the easier it is to find your own writing style. Some amazing and inspirational work can be very dense, bogged down with numbers and statistics making it hard to read. While numbers and statistics are often essential, there are ways to thread all of this dense information together in a smooth, easy to follow manner. Finding the balance between stark numbers and how to link the work together can take time, and often more than one point of view. By participating in the BMUS journal club and joining SWaP in reviewing articles, and discussing ideas, finding the right balance of what works well for you as an individual will become much easier.
In return we would encourage all members thinking of writing, interested in finding more out about publishing or looking for support on writing and publishing to check this group out. You can find SWaP on Twitter @Sonographer_wap or email us at sonographerwap@gmail.com