Sonographer of the Year 2019
12th Dec 2019
We are pleased to announce the winner of the inaugural Sonographer of the Year, Mrs Terry Humphrey who is based at Leeds General Infirmary.
Terry was nominated by BMUS member and colleague Mrs Cathy Sharp, who stated: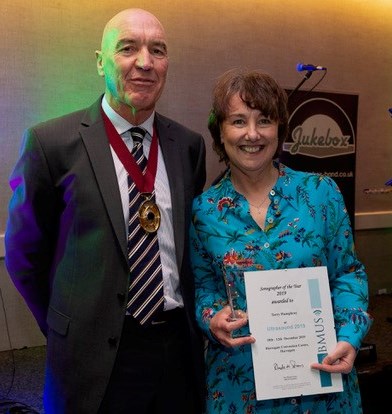 'Terry has worked in the Leeds Trust for over 30 years. Highlights of the contribution she makes include:
Terry's passion and area of excellence is neonatal jaundice. She has researched, perfected, implemented and institutionalised in Leeds a new means of investigating this condition. This has greatly improved the patient pathway, reduced the time before necessary surgery and excluded invasive biopsy. This work has been recognised nationally and published in Radiology.
Her drive and hunger to develop herself mean that she now independently performs and reports complex paediatric cases whilst managing ultrasound lists and reviewing and verifying reports performed by sonographers and radiology registrars.
She leads and develops elastography and contrast ultrasound for the whole Trust and has co-led this service into paediatrics where it is now routinely used for the assessment of trauma, transplantation and focal lesion characterisation.
Terry is a patient and hugely effective teacher. She enthusiastically co- leads the formative and summative assessment programme for all the trainee radiologists in the Leeds Radiology Academy and also provides formal and practical teaching sessions. She mentors both trainee radiologists in their research and audit and a new sonographer every week to develop their skills. In addition, she is an inspirational teacher of paediatric ultrasound, CEUS and transplantation assessment at Leeds University and has developed anatomical material used in part 1 FRCR mock exams.
Terry organises both regular cross city ultrasound audit meetings providing educational development and a discussion forum for sonographers and a National Paediatric Ultrasound course now included in the BMUS calendar. From 2014-2019 she has lead the paediatric stream of the annual scientific meeting, she chairs and judges the 'Young Investigator' session, abstract submissions and posters. I know Terry is honoured and exited to lead the 2020 BMUS Annual Scientific Meeting.
Her current research includes:
Presenting a paper on "How accurate is Acoustic Radiation Force Impulse imaging in assessing hepatic fibrosis in children with liver disease?" at the European Society of Paediatric Radiology ASM June 2018.
Following a presentation given at BMUS ASM in 2018 she was invited to write an article on Neonatal Jaundice for 'Clinical Radiology'.
Requested to speak on Advanced Techniques in Liver Imaging at the British Society of Paediatric Radiology ASM in November 2019.
Invited to the first meeting of "The Porto-systemic Shunts" in Paris 2019 which she attended in her own time and self-funded
Auditing the value of CEUS in children's trauma to help inform patient pathway.
Reviewing Paediatric Radiology and other ultrasound journals.
Summary
Terry is a patient care focussed leader who works in a completely committed and effective way to ensure ultrasound excellence continues to be developed and delivered. In teaching, scanning or mentoring Terry provides unyielding enthusiasm, professionalism and leadership. She is a role model and an absolute credit to her profession and the NHS."