Other Meetings & Events
This page contains information on courses, conference and training events which have come to our notice. This is not a comprehensive list of courses and if you do not find what you are looking for on this or the BMUS Study Day page, an internet search may also assist you.
The courses listed below are not run by BMUS and we have no involvement in their organisation or programme content. BMUS takes no responsibility for these events and if you have a query regarding one of these courses, please contact the programme organiser directly.
January 2019
Fetal Cardiology Course
Location: Birmingham Womans Hospital, Mindelsohn Way, Birmingham, B15 2TG
Date: 31st January - 1st February
The Fetal Cardiology Course offers comprehensive lectures, video display and hands-on experience to give delegates added confidence in recognising normal cardiac anatomy and in identifying and managing cardiac anomalies. The Fetal Cardiology Course is aimed at fetal medicine consultants and trainees, screening sonographers and trainees in fetal medicine and paediatric cardiology.
Fees:
1 day (Thursday 09:00-16:15): £75
1.5 days (Thursday 09:00-16:15) and Friday (09:00-13:00): £150
2 days (Thursday 09:00-16:15) and Friday (09:00-16:00): £250
For full course details and to register click here
---
Ultrasound Assessment of the third trimester pregnancy - Postgraduate Short Course
Location: University of Hertfordshire
Date: 3 consectuive days per month
28th - 30th January,
25th - 27th February and
25th - 27th March,
with assessments on 16th April and 8th May
This course provides the theoretical background of third trimester ultrasound imaging together with the evaluative skills needed to assess and to report correctly the range of ultrasound appearances commonly encountered in a routine third trimester ultrasound service. The course is worth 30 credits at level 7 and is designed for healthcare professionals who have access to a suitable clinical environment and supervised training for no less than 15 hours per week.
By the end of the course students will be expected to be competent in transabdominal and transvaginal scanning techniques relevant to third trimester ultrasound examinations. Taught sessions take place at College Lane Campus, Hatfield. Practical skills assessment is undertaken in the student's department. The course is facilitated by Trish Chudleigh and involves both University and external lecturers. Course fees include a copy of the course's recommended obstetric ultrasound teaching text.
Fees: £1460
For more information or to apply, please click here
---
Imperial@QCCH Fetal Medicine Study Evenings
Location: W12 Conferences
Dates:
31st January 2019 : Early Pregnancy Diagnoses - Problems and Pitfalls
7th March 2019: Fetal Over and Under Growth
6th June 2019: Prenatal Invasive and Non-Invasive Testing
Join Christoph Lees and his team at QCCH for this series of Fetal Medicine Study Evenings (18:00-21:00hrs)
Fees: £30 per study evening (or free to QCCH and St Mary's Hospital London sonographers)
For the event booking, please click here
---
March 2019
Muscle Injury Ultrasound Course
Location: School of Medical Ultrasound, AECC University College, Bornemouth
Date: 18th and 19th March 2019
A short focused course with CASE accreditation and certificate of competency following assessment. This complete course includes full instruction in Ultrasound machine controls, anatomy and dynamic examination to fully equip for the diagnosis and management of lower limb muscle injuries. The course also includes live demo scanning with hands on workshops, on both models to ensure anatomy knowledge and acute patients.
For full course details and to register click here
---
South West Ultrasound Group Ultrasound Study Day
Location: Post Graduate Centre, Derriford Hospital, Plymouth
Date: Saturday 30th March 2019
Delegate cost: £25.00
The study day includes 30 minute talks aimed at Sonographers, Student Sonographers and Radiology Registrars.
Ultrasound Subjects include; What the gynaecologist would like to know from the scan, Adnexal pathology, Polycystic Ovaries and how this affects fertility, testicular varicoceles, Paediatrics, Lumps and Bumps, The groin, Appendix and the bowel and Interesting cases. Sessions delivered by practitioners from Derriford Hospital: Gynaecologist, Consultant in Reproductive medicine, Consultant Radiologists, Consultant Sonographer and MSK Sonographer. Food and Refreshments included. All are welcome
Click here to see the Programme
Click here for the Booking Form
---
May 2019
Expert Pregnancy Imaging
Location: BMA House, Tavistock Square, London, WC1H 9JP
Date: 8th - 11th May 2019
An international faculty will cover a broad range of topics during this 3½ day event that will be headlined by three prominent clinicians in their respective fields, all working together as one faculty: Professor Christoph Lees, Professor Tom Bourne and Professor Phillip Bennett.

A one-stop shop featuring the latest developments in early pregnancy, prematurity and fetal medicine, offering ISUOG approved CPD/CME. If you only come to one meeting in 2019, let it be this one.
For full course details and to register, please click here
For the event booking web link, please click here
---
June 2019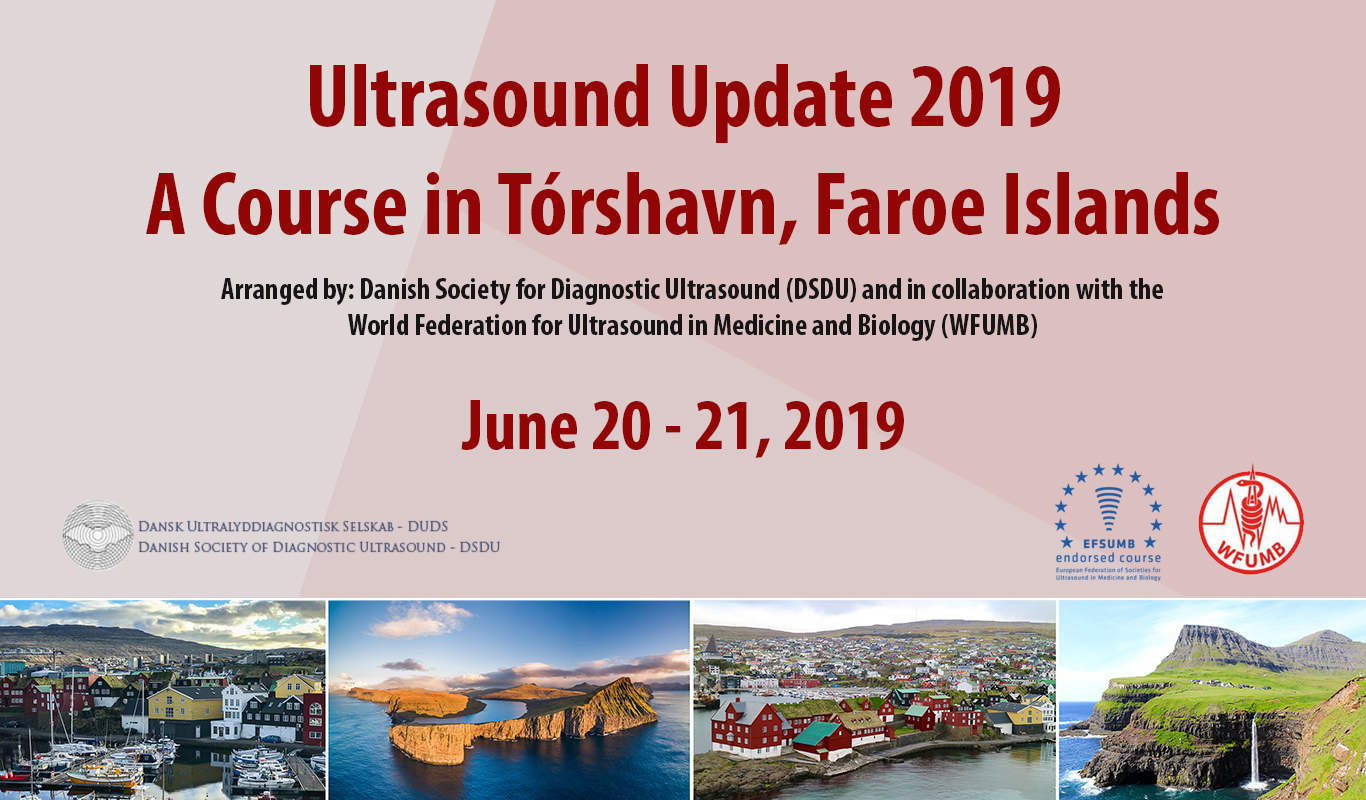 ---
Short Focused MSK Ultrasound Course
Location: School of Medical Ultrasound, AECC University College, Bournemouth
Date: 19th & 20th June 2019
The program has been designed and is delivered by an expert teaching faculty which draws on the experience of elite sports physicians, musculoskeletal radiologist, physiotherapists and sonographers to deliver a broad and balanced curriculum, tailoring to the educational and training needs of healthcare professionals. The course explores and develops an understanding of anatomy, pathology and machine controls to generate optimum ultrasound images. On successful completion of this course delegates will be able to gain accreditation from the AECC University College of essential ultrasound skills to practice safely.
Fees: £1010.00 (stage 1 only)
For the event booking & programme please click here
---
Great Ormond Street Paediatric Ultrasound Course
Location: Weston House, Lecture Theatre, Great Ormond Street Children's Hospital
Date: Friday 21st June 2019 - 09.00 - 16.30
Paediatric specific ultrasound course aimed at Medical Professionals (general Radiology Consultants, Radiology trainees, Sonographers) who undertake or would like to undertake paediatric scanning. The course aims to provide knowledge on useful and up to date techniques, common pathologies and interesting cases.
We will use interesting cases for discussion and to illustrate important points.
The day will consist of lectures covering all aspects of paediatric ultrasound from basic applications and more complex investigations, through to the latest trends and advancements in this field.
Fees: Sonographers and Trainees: £80 (early bird before 29/3/2019 £60.00) Consultants: £120 (early bird before 29/3/19 £100)
For the event booking web link, please click here